LEGENDARY LEADERSHIP SERIES: ENTREPRENEURS IN ACTION!
A PRACTICAL, "MUST-ATTEND EVENT" ON SME MARKETING.
Understand the growth potential and top marketing strategies for small and medium-sized businesses.
AMA Toronto and Canada's Marketing Hall of Legends recognizes Small Business Month and celebrates the significant contributions that entrepreneurs and SME businesses make to the Canadian economy at our next Legendary Leadership Series event, in-person on November 2nd , 2022 at the Verity Club.
If you're a small business owner and/or a marketer who works with SMEs, this is a practical and "must-attend event." Empower your leadership potential with some of Canada's best marketing experts in a robust, in-depth discussion about best practices and marketing strategies for SMEs.
This event will also be the official launch of Dr. Alan Middleton's new book: Marketing Matters For Small & Medium Enterprises: Now More than Ever!
This is your chance to connect and network with Legendary Leaders. Register today and save your spot now!
BONUS: Get a free copy of Alan's new book with every ticket purchased!
Former Executive director, Schulich Executive Education and professor of marketing in the Schulich School of Business at York University. BSc (London, UK); MBA & PhD (Schulich).
After a stellar 25-year career as a marketing practitioner with Esso Petroleum, UOP Inc. then rising to the position of executive vice-president and board of directors member of J. Walter Thompson (JWT) worldwide and president/CEO of JWT Japan, Alan left to complete his PhD at the Schulich School of Business at York University and became professor of marketing at Schulich. He has also taught at Rutgers Graduate School of Business in the US and at business schools in Argentina, China, Russia and Thailand. In September 2001 he took over as executive director of the Schulich Executive Education which trains more than 16,000 managers and executives domestically and internationally.
Alan wrote the books Marketing Matters For Small & Medium Enterprises: Now More than Ever! and Mentorship Matters: Now More Than Ever! . He also co-wrote the books Advertising Works II and Ikonica – A Fieldguide to Canada's Brandscape, and published papers for the ACA/ICA on Marketing Communications ROI, Client-Agency compensation strategies and Client-Agency Relations. He was a co-founder of the 'Cassie' advertising awards, a past member of the Academic Committee of Leger Marketing, and was inducted into Canada's Marketing Hall of Legends.
Bryan Pearson is the former CEO of LoyaltyOne Co. and currently serves as a Director and strategic advisor to a number of organizations. He is a global leader in loyalty, retail marketing and analytics, and a passionate advocate for the ability of marketing, leadership and culture to transform business performance. Under Bryan's leadership, LoyaltyOne was recognized repeatedly as a leading employer, a most admired corporate culture, one of the greenest companies and one of Canada's top employers for millennials and women. This during a ten-year period where the business grew top-line revenue by 400% and bottom-line performance by 800%. Bryan is an inductee in Canada's Marketing Hall of Legends.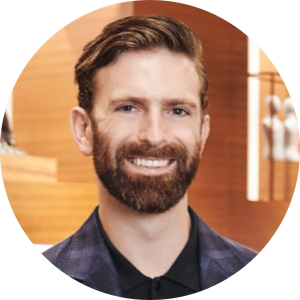 Ian Rosen is the President and Chief Operating Officer at Harry Rosen. Continuing his family's legacy, Ian now represents the third generation of the Rosen family leading the company towards brighter futures. Following his previous role as EVP, Digital & Strategy, Ian's current role as President and COO sees him continue to work closely with the EVPs of Marketing, Merchandise, Operations, and IT. Additionally, Ian also acts as a public spokesman for the organization, guiding Harry Rosen's corporate strategy from the forefront. Harry Rosen is Canada's leading quality menswear retailer and one of Canada's most creative and innovative retailers. Harry Rosen is Canada's leading quality menswear retailer. Founded in 1954 by the man whose name the chain still bears, the eponymous store has grown from a single 500-square-foot store in Toronto to become a powerhouse in Canadian retailing with 17 stores across Canada and a robust e-commerce offering. Harry Rosen stores and its website offer extensive collections from the world's finest labels, the latest must-have designers and its very own Harry Rosen Signature brand. Prior to joining Harry Rosen, Ian was a Management Consultant at Bain & Company in Chicago where he focused on Strategy, Retail and Digital projects. Ian holds both an MBA from the Kellogg School of Management and an HBA from Ivey Business School.
Sharifa Khan is the President and CEO of Balmoral Multicultural Marketing, which celebrated its 30th anniversary last year. It is the oldest multicultural marketing agency in Canada, where she leads a team of seasoned ethnic marketing professionals to service corporate, government and non‐profit organizations. She has helped brands connect and engage with Canada's diverse ethnic communities. Her motto is "Building Bridges of Understanding". She is a maestro in putting a cultural lens to strategy and brands, to drive considerations and solidify relationships between mainstream and these ever-growing market segments. She has served on the boards of the United Way of Greater Toronto, and the Toronto Board of Trade. Khan was vice-chair of OCAD University and a director of Ontario Creates. Today, she is Honorary Advisor to Chinese Cultural Centre of Great Toronto and the Canadian Ethnic Media Association. She serves on the board of senators for Toronto General Hospital, and the board of governors for Mount Sinai Hospital. Sharifa is an inductee in Canada's Marketing Hall of Legends.
Les Mandelbaum co-founded Toronto-based house-ware company Umbra. Umbra was founded in 1979 to fill a perceived hole in the market for casual and accessible products for the home. Today, their innovative design principles and expansive business practices make them global leaders in home design, and they continue to rely on young Canadian talent for the creation and production of their designs. Umbra currently distributes in over 120 countries around the world, with the USA its largest market, and with offices in Europe, Canada, the United States, South America, and China. Umbra manufactures products in nearly every category of home accessories and furnishings, for every room in the home. The 40+ year-old company currently has revenues of over $100 million and employs over 750 people worldwide. Les is an inductee in Canada's Marketing Hall of Legends.
About Canada's Marketing Hall of Legends
Canada's Marketing Hall of Legends was created to honour individual Canadians who have dedicated their lives to the pursuit of excellence in the field of marketing and to inspire and build marketing leaders as well as future legends. AMA Toronto developed the Legendary Leadership series to give the community direct access to our inducted legends and learn their insights into the future of marketing and business.
Hurry! Limited tickets only.
Member tickets are $49
Non-Member tickets are $74
Become an AMA Member today to get the best deal and lots of other benefits.
Share this event on social media: @amatoronto #AMAToronto